Dana Cole-Clark and her husband Bob were at a crossroad in their personal and professional lives when they asked themselves "Are we doing what we love to do?" "Are we living where we want to be living?" Soon afterwards, following 15 years in the banking and finance industry, they relocated from Dartmouth, Nova Scotia to the Annapolis Valley, the place of Dana's childhood. What came next was a journey of personal growth, healthy living, family ties, community involvement, re-education and successful small business development.
Dana began studies in Diet and Nutrition through the Canadian School of Natural Nutrition and became a Registered Holistic Nutritional Consultant, her passion for healthy living spilled over into all aspects of her life, including interaction with people of all ages and stages of health in the local community.
A natural-born communicator, Dana was mostly drawn to the elderly. Her interest in their well-being was genuine and before long she had a small group of seniors that she checked in on regularly with kind-hearted concern. Dana's interest in the senior population was further fueled by a three-year volunteer position on the Kingston/Greenwood Community Health Board. It was here that she learned of important issues like Falls Prevention, Senior Abuse, Dementia and Palliative Care. What was truly eye-opening for Dana was learning about the gap in services for the elderly. 
With so many senior citizens unable to find the tender, loving care they required in order to live independently at home, she resolved to do something about it!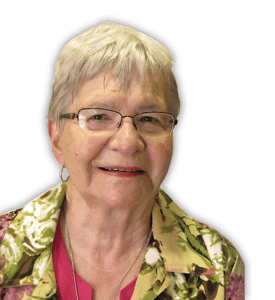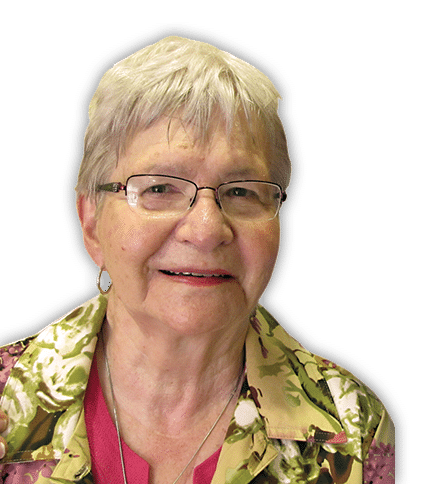 Passion for quality
In 2005 Dana's passion for quality service led to the development of Annapolis Valley At Home Senior Care. In just a few short years it became a thriving home care agency with administrative staff and 50 Caregivers who, like Dana herself, have a special way of nurturing and supporting senior citizens.
Over the years the business continued to grow and in 2014 a decision was made to complete Accreditation with Accreditation Canada. Dana led her team through this three-year commitment and the result was Full Accreditation with the highest achievement – Exploratory Standing in 2017.  Annapolis Valley Home Care Ltd. became the only privately-owned home care company to obtain Accreditation. Today, both Dana's children and Bob work alongside her daily and continue to serve their community and are proud to operate a family-owned and operated business.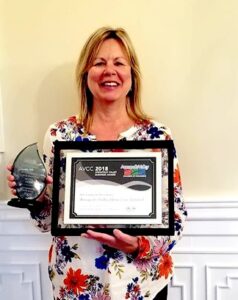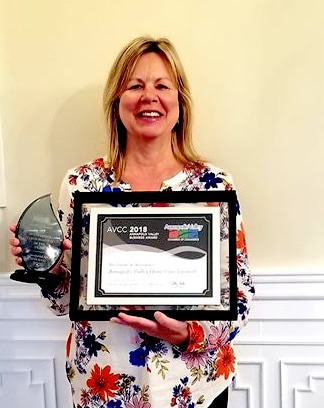 Annapolis Valley Home Care Limited is the only privately-owned home care company in Nova Scotia to achieve top accreditation "Accredited With Exemplary Standing", from the national health standards organization, Accreditation Canada. 
Annapolis Valley Home Care Ltd was founded in 2005 and has continued to grow while maintaining its commitment to providing "Quality Care from the HEART". Achieving this designation only further endorses this commitment. 
Since its inception in 2005 the company has thrived, its success a direct result of the passion and quality service from the heart of both Dana and her staff. Dana's big heart led her to look after and care for all ages and in 2016 the company was renamed Annapolis Valley Home Care Ltd. "Care for All Ages" Along with the new name came a new office location with an entire floor dedicated to a training facility for Caregivers. Our building is equipped with a classroom, full personal care room including bathroom and kitchen facilities to ensure one-on-one training is obtained for all our Caregivers.
We employ LPN's. CCA's, Personal Support Workers, Health Care Aids and Home Makers.
Today, Annapolis Valley Home Care Ltd has made a positive difference in the lives of hundreds of residents in homes, facilities and neighbourhoods from Windsor to Digby….and all because Dana and her family had the courage to change direction and follow their hearts.
We are not a franchise, we are locally owned and operated.
We hire and support the communities, we service and hire the mothers, fathers, sons, daughters and grandchildren living throughout our service area.
Supporting Local, Supports your Communities.
Annapolis Valley Home Care is all about community support and contribute to many from Windsor to Digby such as Relay for Life, Walks for Alzheimer's and Dementia, ALS and Parkinson's, Palliative Care,  Seniors Picnics, Exhibitions and Parades, Food Banks, Coats for Kids, Stockings are Hung, to name just a few.
Annapolis Valley Home Care Ltd. team has increased to 100 employees working
together to make a difference in the lives of those in our communities.